Alpha Pharma Rexobol is presented in a 50 tablet box with 5 blister packs of 10 tablets each. Each tablet reportedly contains 10 milligrams of stanozolol according to the label and packaging. Samples of this product were purchased from a European-based internet source between the dates of February 1, 2016 and March 15, 2016. The samples were forwarded and received by the analytical laboratory SIMEC AG for HPLC-UV testing on March 24, 2016.
The quantitative dosage testing report was completed on May 4, 2016. The product manufacturing date was listed as May 2013, the expiration date as April 2016, the batch number as RB1303, the serial number as PKQ71NCG8H and the authentication code as d5uc68kQn. The authenticity of the product was verified using the "Check Alpha" Android app.
Label claim: Alpha Pharma Rexobol has a label claim of 10 mg/tablet stanozolol.
Actual content: Alpha Pharma Rexobol was determined to have actual content of 10.4 mg/tablet stanozolol.
Discuss the Alpha Pharma Rexobol lab test results on the AnabolicLab Forum.
(The following images are photographs of the actual product that was submitted for testing.)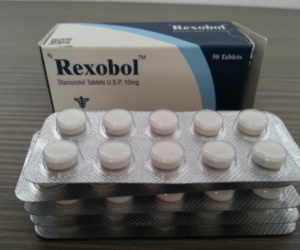 Alpha Pharma Rexobol Dosage Quantification Lab Results [PDF]
How many milligrams of stanozolol are in each Alpha Pharma Rexobol tablet? HPLC-UV (May 4, 2016) ...

Size
1.26 MB
Downloaded
503 times
Last Updated
July 23, 2016
Download
---
Alpha Pharma Rexobol Lab Test Results by Anabolic Lab is licensed under a Creative Commons Attribution-NonCommercial-NoDerivatives 4.0 International License.